As well as his work as a Professor of Latin Percussion at the MANNHEIM UNIVERSITY OF MUSIC AND PERFORMING ARTS, José also teaches as a visiting professor at the following institutions:

STAATLICHEN HOCHSCHULE FÜR MUSIK UND DARSTELLENDE KUNST MANNHEIM
Professor for latin percussion | Rhythmic I | Conductor salsa orchestra | Conductor percussion ensemble |
JAZZ UND POPULARMUSIK ABTEILUNG.

BUNDESAKADEMIE FÜR MUSIKALISCHE JUGENDBILDUNG TROSSINGEN
Vocational training course "Schlaginstrumente im Unterricht" | Various latin percussion courses | Small percussion | Cajon | Finale notation |

POPAKADEMIE BADEN-WÜRTTEMBERG
, Mannheim
Guest lecturer for latin percussion workshops | Latin music
Percussionists often take a backseat to other musicians, even though their sound and rhythmic sophistication are what it takes to make the music flow, accentuate the sound and get listeners into the groove. Because of the background role often played by percussionists at drum festivals, José came up with the idea of developing two festival concepts, which center around percussionists only.
In cooperation with the
LANDESMUSIKAKADEMIE NRW
, the first
World Percussion Academy
took place in 2012 with great success. The goal of the World Percussion Academy is to offer an intensive working atmosphere in which percussionists can delve into the secrets of Oriental, African, Mediterranean, Brazilian, Indian and Latin American percussion.
WORLD PERCUSSION ACADEMY 2013 • PERCUSSION FIRST! •
One week, four continents, seven lecturers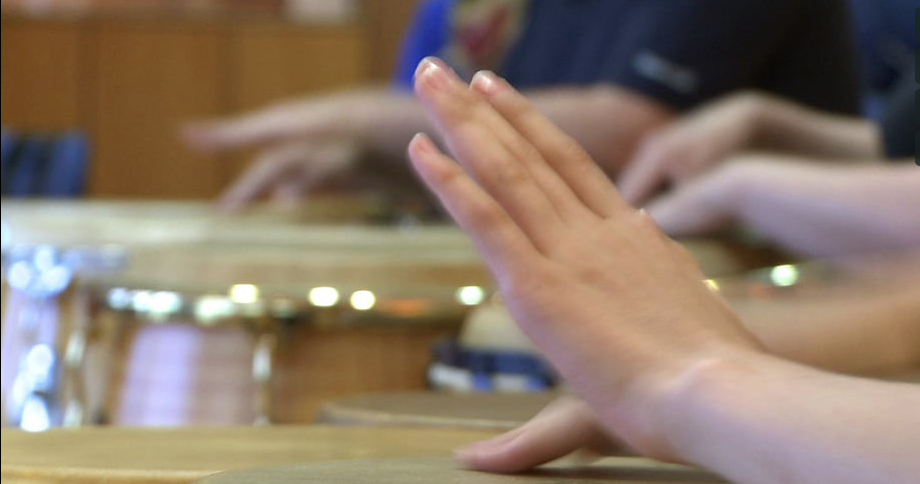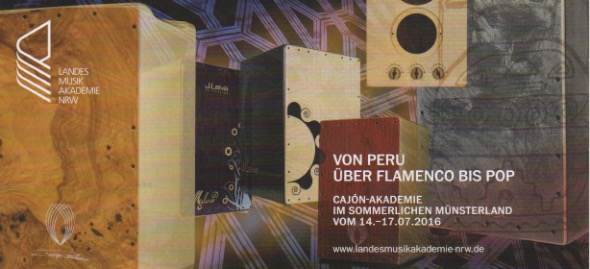 - FROM PERU TO FLAMENCO TO POP -
The Cajon stands for four days at the center of the first Cajon-Academy, which also takes place in cooperation with the
LANDESMUSIKAKADEMIE NRW
every second year, alternating with the World Percussion Academy. Stylistic methods of Flamenco, Peruvian Cajon and popular music are studied, as well as the use of Add-ons.
José is an instructor for various organizations as well as being in demand at workshops on both the national and international scale.
Please see the listing
Events
in the menu for current workshops and dates. If you would like to organize a workshop or a Latin Percussion event, please feel free to contact José via e-mail. José also offers workshops on Finale Notation Software for drums and percussion notation.
Contact
Bisherige Stationen für Masterclasses und Clinics mit José waren u.a.:
World Drum Festival
Bundesjazzorchester (BuJazzO)
GoMusik-Drums & Percussion Camp
Jazz Workshops in Erlangen
Bund Saarländische Musikvereine e. V.
PPC Hannover Festival
Hochschule für Musik Nürnberg
Jazz-Forum Aidlingen e. V.
Jazz & Rock Workshop in Salzgitter
Music College Regensburg
Deutsches Percussion-Symposium in Ansbach
Ingolstädter Jazz-Blues-Workshop
Münchener Rock-Blues-Jazz Tage
Drummer-Meeting in Salzgitter
Internationales Schlagzeug-Percussion Festival in Metzingen
Internationaler Rhythmus-Tag in Schorndorf
Musikakademie Kürnbach
Fortbildungsakademie Schloß Weinberg (Linz)
Richard-Strauss Konservatorium in München
Salzburger Musikschulwerk
Hochschule für Musik Carl Maria von Weber in Dresden
Europäische Jazzakademie
Workjazz Mannheim
Hochschule für Musik Franz List Weimar
Landesmusikakademie NRW
Percussion Creativ Teachertage
Landesjugend Jazzorchesters Hessen
dm-Zukunftsmusiker Initiative
Internationales "drums & percussion" Seminar